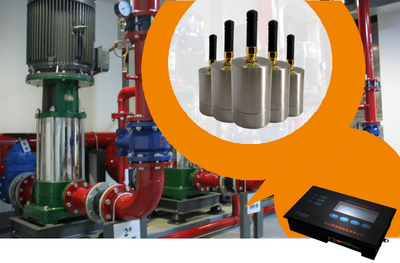 Product Description
The AT-II wireless vibration temperature measurement system installs the vibration temperature sensor on the surface of the motor, measures the vibration temperature of the motor, wirelessly transmits the vibration temperature value to the local wireless receiver, and can also upload the data through the 485 communication or network module. To the remote management center, access to the automated management system to achieve remote online monitoring and early warning of vibration temperature, to solve the problem of temperature measurement of cable can not be laid.
System components: wireless vibration temperature sensor, wireless vibration temperature receiver, data processing center (computer and software) Measurement parameters: vibration (acceleration, speed, displacement), temperature
Features

Unique centralized receiving method: a single sensor wireless transmission distance of up to 3000 meters (empty), a wireless vibration temperature receiver can receive the value of 256 wireless vibration temperature sensors within a few hundred meters of the scene.
The acquisition cycle of each sensor can be changed wirelessly remotely. The background software has a variety of over-limit warning and alarm functions.
The wireless transmitter module adopts high sensitivity and low power consumption design, and the battery has a long service life. The system structure is the most simplified and flexible, and can be connected to various data platforms.
Specification
Wireless Vibration Temperature Measurement:AT-II-MT-V1

Measuring range

Speed: 0-2000mm/s

Displacement: 0-2000um

Acceleration: ±8g

Temperature: -30 ° C ~ +125 ° C

Standby current

<10uA

Probe size

φ32 (diameter) mm* 50mm

Receiver size

200 (length) * 135 (width) * 31 (height) mm

Acquisition cycle


Default 5 minutes, factory setting according to customer requirements

Battery Life

More than 1 year (determined by the launch cycle)